Established in 2012, Victory Athletics is a not-for-profit organization that provides developmental opportunities in basketball, baseball, and softball for youth athletes in Northern and Central New York. A staple of the Victory Athletics organization is to provide these opportunities to athletes for little-to-no out of pocket costs for their families. To accomplish this athletes participate in a variety of annual fundraisers, the most beneficial of which is an annual golf tournament held at Ives Hill Golf Course.
This year Northern Orthopedic Laboratory, Inc. was asked to support the organization and become a "Gold Level" sponsor for the golf tournament. After learning about the mission of the Victory Athletics organization, NOL was happy to take part in promoting the development of youth athletes by accepting the sponsorship request.
"I felt that sponsoring Victory Athletics was not only a great way to stay involved with the community, but it also provided a nice opportunity to show our support for today's youth and the importance of promoting healthy and active lifestyles," says Don Holmes, CPO, Director of Prosthetic and Orthotic Clinical Services at Northern Orthopedic Laboratory.
In addition to the sponsorship, Northern Orthopedic Lab also entered a four person team into the "Captain & Crew" style tournament. The team consisted of Tom Coakley (below knee amputee), Raymond Gilbert (below knee amputee), Wayne Stripp (above knee amputee), and Don Holmes, CPO.
"Even though those guys hit the ball better than me most of the day, it was still a great time!" said Mr. Holmes, jokingly. "I really enjoy being able to relate with my patient's on a more personal level outside of the office," he added.
Northern Orthopedic Laboratory is also a sponsor of North Stars Elite Hockey, CNY All-Stars Cheer-leading, Watertown City League 10U & 13U Baseball Teams, and provides prosthetic and orthotic services for the Watertown Red & Black semi-pro football team.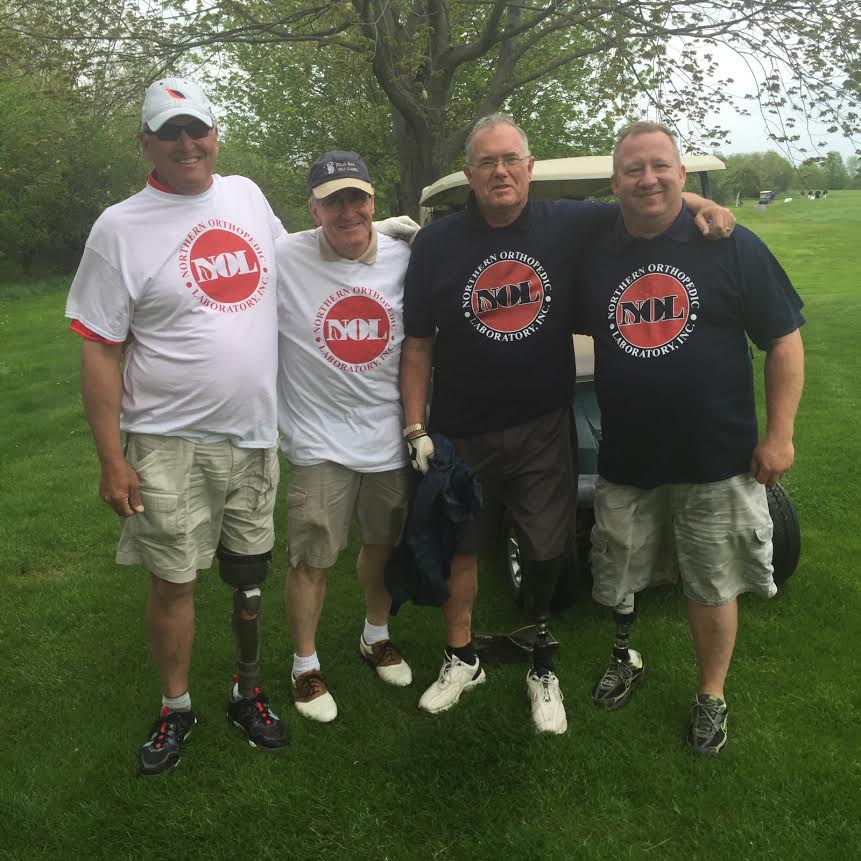 Pictured above (from left to right): Wayne Stripp, Donald Homes, CPO, Tom Coakley, Ray Gilbert