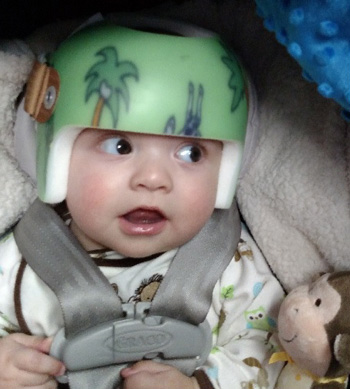 Orthotics – Bracing for support, relief and accommodation
Our highly trained and qualified practitioners specialize in all forms of bracing from off the shelf to custom molded. Northern Orthopedic Laboratory is proud to be the only facility in the North Country with two locations that provide upper extremity, lower extremity, spinal bracing, and cranial bands. Whether you have a torn ACL and are looking for an off the shelf knee brace or have a drop foot and looking for a custom molded AFO, Northern Orthopedic Lab is the answer.
NOL practitioners will complete an in depth orthotic evaluation and work closely with your physician in to order to provide you with the best care possible and get you back on your feet.
Take a look at some of our orthotic products below.
Starband (cranial remodeling)
StarBand is a cranial remodeling orthosis used to treat deformational plagiocephaly, brachycephaly, scaphocephaly, and post-op craniosynostosis in infants 3-18 months in age. As the first cranial orthosis available to O&P practitioners with FDA clearance, the StarBand has helped successfully treat and manage thousands of children with cranial deformities. NOL is proud to be one of only a handful of facilities with the experience and skill to offer cranial remodeling.
AFOs/KAFOs
Ankle-foot orthoses or AFOs are designed treat neurological and bio-mechanical deficiencies and get you back to your active life style. Our custom AFOs are custom made to each patient and are designed to help promote joint motion, reduce pain, improve joint alignment, and protect injured or impaired tendons/ligaments or bones. Our Knee-Ankle-Foot-Orthoses(KAFO) are tailor made to each individual using the most advanced joint systems available. KAFOs can be used to treat paralysis, joint laxity, arthritis, and fractures.
Knee Braces
NOL stocks a variety of off the shelf knee bracing solutions that are used to treat anything from sports related injuries such as ACL tears to Osteoarthritis. Each knee brace is custom fit to each patient's individual anatomical knee structure providing the perfect fit. Knee bracing is used to manage osteoarthritis, ACL/PCL tears, facilitate healing following a fracture or surgery, and assist in rehabilitation.
Spinal Bracing
Spinal bracing is used to support all levels of the spine from cervical to sacrum. Spinal bracing is commonly used to stabilize and support the spine relieving pain and discomfort.