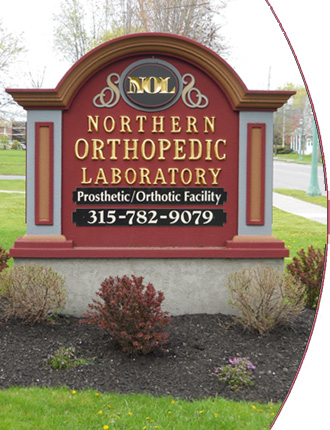 About Us
Facility History
Northern Orthopedic Laboratory, Inc. was incorporated in 1981. Over the years, the company has grown to include four offices. Our main office is located at 1012 Washington Street, Watertown, NY with satellite offices located at 223 Washington Street, Ogdensburg, NY; 3 Remington Avenue, Canton, NY; and 6604 State Highway 56, Potsdam, NY
Northern Orthopedic Laboratory has been servicing Veterans since 1984 and has been a Medicaid / Medicare provider since its inception.
Facility Accreditation
Northern Orthopedic Laboratory's offices are accredited by the American Board for Certification in Orthotics, Prosthetics and Pedorthics. Northern Orthopedic Laboratory meets or exceeds all requirements of ABC's facility accreditation program.
Mission Statement
Northern Orthopedic Laboratory, Inc. is an orthotics and prosthetics facility providing "Family Centered Care". Our experienced professional staff of Certified Orthotists, Prosthetists, and Technicians work successfully with area hospitals, clinics, and medical groups to provide quality physician directed care.
Northern Orthopedic Laboratory's primary goal is to provide high quality orthotic and prosthetic services to patients in a timely cost effective manner. Orthotic and prosthetic services are one of the few areas of healthcare which meet patients needs and reduce the costs of healthcare at the same time. Orthotics and prosthetics not only improve a patients' quality of life, they also frequently enable patients to avoid surgery, shorten their hospital stay, and return to their communities and the work force more quickly. Orthotic and prosthetic services are a vital component of the comprehensive health care provided to patients. Patients shall always be treated with respect, consideration and dignity.
Referral Sources
The following providers and organizations routinely refer their patients to Northern Orthopedic Laboratory for services:
Physicians
Including physiatrists, vascular surgeons, general surgeons, orthopedic surgeons, neurosurgeons, rheumatologists, general practitioners, osteopaths and podiatrists.
\r\n
Allied Healthcare Personnel
Including physical therapists, occupational therapists, physician assistants, nurse practitioners, nurses, discharge planners, case managers and rehab directors.
Hospitals
Managed Care Organizations
Skilled Nursing Facilities
Clinics